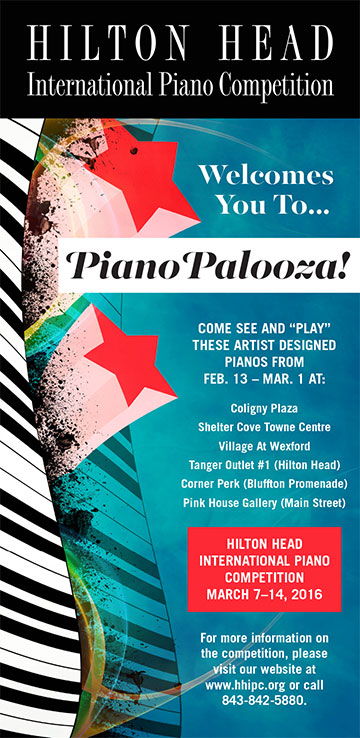 They did it in Tel Aviv, they did it in New York and China, then in Santa Monica and Toronto and Omaha . . . and now in our own backyard!
PianoPalooza! – painted pianos throughout the community! Five local artists and two high school art classes have volunteered to paint pianos in a design of their choice for outdoor display during the month of February. This fun event is a prelude to the Hilton Head International Piano Competition (HHIPC) scheduled for March 7 through 14.
The pianos were donated to the HHIPC and delivered to the artists who are now busy working on their designs. The volunteer artists are Amiri Farris, David Noyes, Vickie Jourdan, Alexandra Sharma and Mark Maute, and the Bluffton High School and Hilton Head High School art departments.
These whimsically painted pianos will be on display outdoors beginning February 13 with a kick-off from Noon to 3:00 pm at 6 different locations in Hilton Head and Bluffton. Everyone is welcome to come out and "play" the pianos at Coligny Plaza, The Village at Wexford, Shelter Cover Towne Centre, Main Street, Tanger Outlet 1 and Corner Perk in downtown Bluffton at the Promenade.
"They're works of art" said Mona Huff, Director of the HHIPC, "they're fun and playful. A great way to merge art and music in the community".
They will remain on display until March 1 when they will be moved to The Art League of Hilton Head to celebrate "Music as Art" for the month of March where they will be available for auction – a celebration of music and visual art.
For further information, or tickets to the competition call 843-842-2055. The HHIPC is sponsored by the Hilton Head Symphony Orchestra.