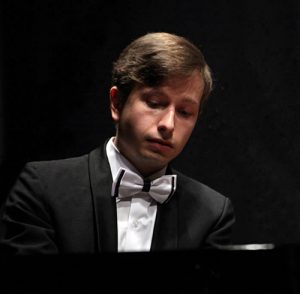 ALEXEY SYCHEV
COUNTRY – Russia
AGE – 30
HOST FAMILY – Linda and Kurt Hanaway
Alexey Sychev was born in Lipetsk, Russia and began playing the piano at age seven. He is a laureate of 27 international piano competitions across four continents. In 2018, Alexey received third prize at the Dublin International Piano Competition and at the 64th Maria Canals International Music Competition in Barcelona. In 2015, he received first prize, Audience prize and a special prize for the Best Liszt Sonata Performance at the 8th International Franz Liszt Piano Competition Weimar-Bayreuth. In 2014, he won First Prize of the XLI International Musical Competition "Dr. Luis Sigall," Chile. In 2012, Alexey received four first prizes – at the World Online Piano Competition, USA, International Piano Competition Massarosa, Italy, International Piano Competition of Princess Lalla Meryem, Morocco, and International Piano Competition "Ennio Porrino", Italy.
Alexey has performed recitals in Austria, Germany, France, Italy, the Netherlands, Portugal, Slovakia, Serbia, Switzerland, Israel, Morocco, Moldova, Russia, Brazil, Chile, Japan, Canada and the United States. He has appeared as a soloist with major orchestras, including RTÉ National Symphony Orchestra, the Netherlands Symphony Orchestra, St. Petersburg State Symphony Orchestra, Lithuanian National Symphony Orchestra, Chilean National Symphony Orchestra, Portuguese Philharmonic, Gulbenkian Symphony Orchestra, Staatskapelle Weimar and Staatskapelle Schwerin.
Performance venues include the Concertgebouw in Amsterdam, Sala de Concerts of Palau de la Música in Barcelona, the National Concert Hall of Ireland, the Gulbenkian Hall in Lisbon, the Great Hall of the Moscow Conservatory, Salle Cortot in Paris, the Rudolfinum Hall in Prague, and the National Congress of Chile. He recorded his debut CD at Czech Radio.
Professional training
University of Münster (Germany)
University of Music and Performing Arts Vienna (Austria)
Mozarteum University Salzburg (Austria)
Moscow Tchaikovsky Conservatory (Russia)
Recent awards
2018 Dublin International Piano Competition (3rd prize)
2015 8th International Franz Liszt Piano Competition Weimar-Bayreuth (1st prize)
Round I
Haydn                               Sonata No. 52 in E-flat major, Hob. XVI:52
Debussy                           Préludes Book II, No. 12: Feux d'Artifice
Liszt                                 Grande Étude de Paganini, S. 141, No. 3: La Campanella          
Round II
Liszt                                  Hungarian Rhapsody No. 12 in C-sharp minor, S.244/12
Prokofiev                          Sonata No. 7 in B-flat major, Op. 83
Round III
Wagner/Liszt                    Isoldens Liebestod (from Tristan und Isolde), S. 447
Liszt                                   Sonata in B minor, S. 178
Ravel                                  La Valse
Round IV
Tchaikovsky                       Concerto No. 1 in B-flat minor, Op. 23