2016 HHIPC
Tickets for the upcoming 2016 Hilton Head International Piano Competition are now on sale. The March 7-14 competition showcases an elite group of 20 pianists, ages 18-30, selected from a record number of 180 applicants from 36 countries. The pianists will compete in two preliminary rounds at The Arts Center of Coastal Carolina, the Semi-finals and the Concerto Finals with the HHSO conducted by John Morris Russell at the First Presbyterian Church. See the calendar of events below:
Rounds I and II: March 7-10, 2016
Arts Center of Coastal Carolina
Semi-finals: Saturday, March 12, 2016
First Presbyterian Church
Finals: Three Finalists perform with the HHSO
Monday, March 14, 2016
First Presbyterian Church
Tickets: online at hhipc.org or call 843-842-2055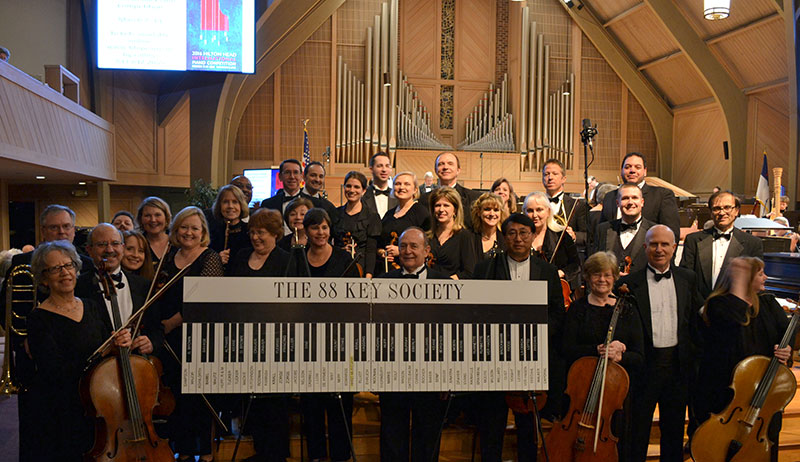 A huge thank you to our HHSO musicians who are now the proud owners of Middle C! Welcome to the 88 Key Society!
---
PIANO PALOOZAS
Have you seen all six yet?
In looking for some new creative ways to advertise the upcoming Competition, Director Mona Huff came up with the idea of placing painted pianos around the community during the weeks prior to the Competition. "JP" of Rice Music House and Jeff Herrin donated six spinets. Students at both Bluffton and Hilton Head High Schools and several local artists excitedly agreed to paint them. Once finished, the pianos were delivered to six sites on the Island and in Bluffton: David Noyes' piano can be found at Main Street;
Bluffton HS's piano is at Tanger I; Hilton Head HS's at Wexford Village; Amiri Farris' at the Corner Perk in Bluffton; Alexandra Sharma & Mark Maute's at Coligny and Vickie Jourdan's at the Shelter Cove Towne Centre. Come take a "selfie" with a piano and post it on Facebook. Come play a few tunes! All ages are welcome to try them out, and then we hope you'll come to the Competition and hear our talented pianists compete.
If you'd like to own one of the pianos, there will be asilent auction once the pianos are taken to the Arts Center of Coastal Carolina for Rounds I and II. Details will be announced soon.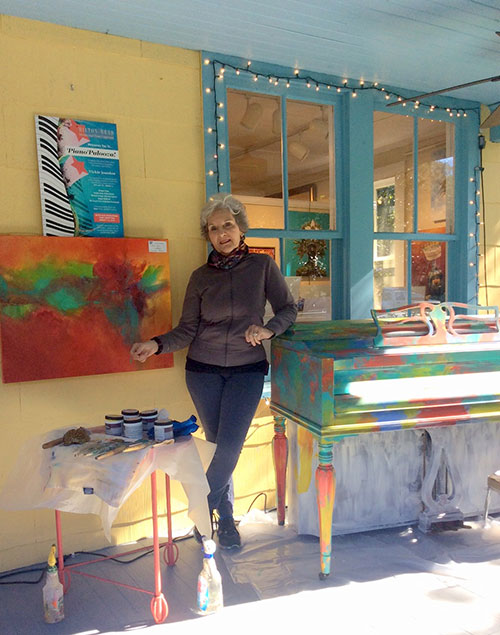 Vickie Jourdan working on her Piano Palooza at the Pluff Mudd Gallery
2016 HHIPC To Be Live-Streamed !!!
Cruising down the Danube last summer, HHIPC Committee Chair Joan Dattelbaum and former Chair Mary Ann Putnam kept listening on their iPads to live-streamed broadcasts of the famous Tchaikovsky International Piano Competition in Moscow. Back in Hilton Head, Director Mona Huff was also listening! We were keenly interested because a number of our former competitors had qualified. During the finals we found ourselves rooting for George Li. He had previously performed twice on Hilton Head – once in a 2010 recital to show our supporters just how exciting teenage pianists can be – and again in 2014 when he performed the Grieg Piano Concerto with the HHSO. It was incredibly exciting to see him bring home the silver medal! Imagine how thrilled we were once again in October as we watched live-streamed broadcasts of the Chopin Piano Competition in Warsaw and saw former laureates Kate Liu win the Bronze medal and Tony Yike Yang place fifth.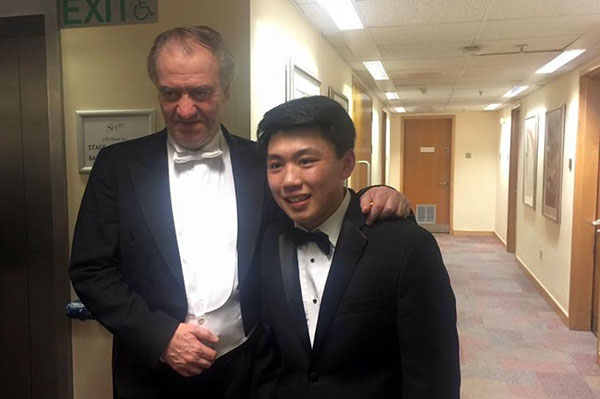 George with Maestro Valery Gergiev at a concert featuring the Tchaikovsky Competition winners.
We firmly believe that the best way to hear the music at any competition is to be there in person. However, when you can't be at all the rounds, or live in a different part of the world, it's amazing to be able to watch these pianists compete from afar. So the HHIPC has decided to join the 21st century and live-stream the first three rounds of the 2016 Competition. Please join us at the Arts Center of Coastal Carolina for Rounds I and II and then at the First Presbyterian Church for the Semi-finals.
However, if you can't be there in person or you want to watch a favorite competitor again, this is how you can do it.
Visit the HHIPC Website – click on 'live-stream' on its home page
Visit the HHIPC Facebook page
The WSVH website will have a link
The live-streamed videos of Rounds I-III will be available to watch throughout March and then can be seen on the HHIPC YouTube channel – easily accessed through our home page.
We hope all readers of this newsletter will be at the Finals on March 14. However, if you can't, then sometime during the week following the competition, you will be able to hear all three finalists play with our own HHSO under the baton of John Morris Russell. It will be broadcast on WSVH radio.
Stay tuned for more information on this exciting new development for the HHIPC!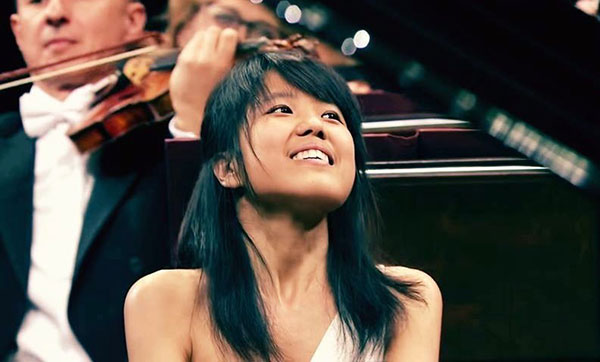 Kate Liu playing in Warsaw
2015 HHIPC Young Artist Winner Elliot Wuu's Return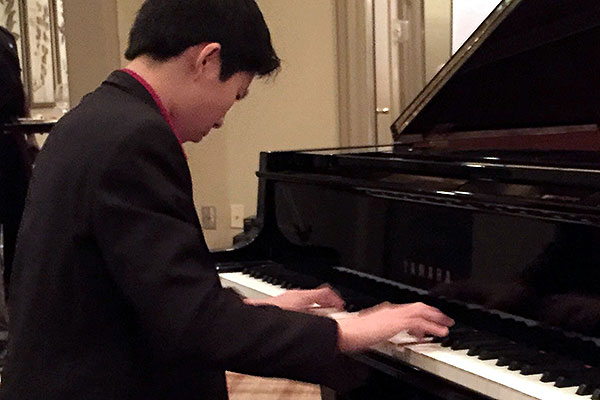 As part of his First Prize, Elliot had a return engagement with the HHSO where he played Rachmaninoff's Rhapsody on a Theme by Paganini. He also gave two recitals – at the Sea Pines Country Club for the Odyssey Program and at Moss Creek.
---
HHIPC HOST FAMILIES KEEPING CONNECTED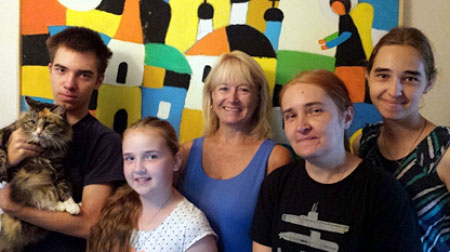 Hilton Head Island newcomer Barbara Holmes jumped right in and volunteered to be a Host Family in 2015. The payoff was new friends and a trip to Moscow! Here's what Barbara had to say about her first time as a hostess:
Barbara in the middle; Elizaveta on the far right
"Several months after moving to Hilton Head Island, I was offered the unique opportunity to host a competitor for the 2015 HHIPC. I knew very little about the competition but decided it would be a great opportunity to hear talented musicians and meet new people from abroad and locally.   I was assigned a competitor from Moscow, Russia. I picked up fifteen-year-old Elizaveta Klyuchereva and her mother Maria at Hilton Head Airport having only communicated with them several times by email. I do not speak Russian but Elizaveta spoke English quite well and her mother understood English, although she was not as fluent as her daughter.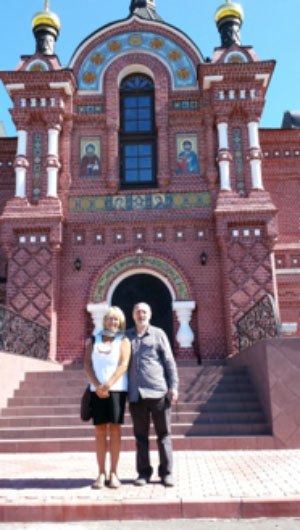 To be able to listen to an incredible young pianist practice for hours and hours in my living room was such a gift. To see her perform and make the finals was so exciting. But the best part of the experience was getting to know these two individuals. While Elizaveta was a serious, disciplined and fierce competitor, she was also a sweet, kind and fun-loving 15-year-old. We share a love of cats and ice cream. Her mother Maria is a proud parent who has put her own career on hold to see that her daughters (Elizaveta's 11-year -old sister Anastasia is also a pianist) have every opportunity to develop their amazing talent.
We developed such a rapport during the week of the competition that they invited me to visit their family in Russia. I jumped at the chance! This past August I spent ten days in Moscow at their family home. In addition to seeing all of the sights of Moscow, the family took me on a 3-day road trip to some of the ancient cities of Russia. Elizaveta's father is a well-known mosaic artist whose many famous works are displayed all throughout Russia, most notably in Red Square. I know that I will maintain my relationship with this family for years to come."

Photo of Barbara with Elizaveta's father. His mosaics are on this Red Square Church. You can see more of his work on his website: www.iconandmosaic.com
If you have a spirit of adventure and a baby grand piano, why not host a competitor next year? Email [email protected]
Beginning with their hosting of Spencer Meyer in 2003, Judy and Stewart Brown have opened up their home to nine different competitors. They stay in close touch with most of them and follow their careers with interest.
Spencer was recently appointed Artist Teacher in Piano and Collaborative Piano at Boston's Longy School of Music at Bard College. His CD of Bolcom rags will be released this May on the Steinway & Sons record label. He will be performing all over the country this year, including at the Cliburn Festival.
The Browns have also traveled to hear former competitors perform. They did not make it to Mongolia to hear 2010 medalist Elmar Gasanov play in the opening concert at The Corporate Hotel Convention Center; but, this summer they plan to travel to Moscow to visit with him, his wife and brand new baby.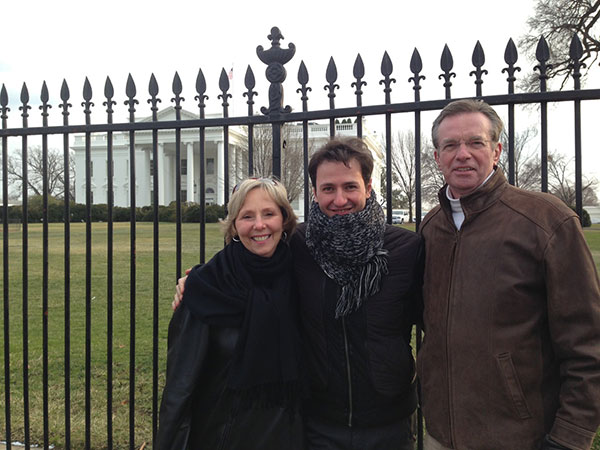 Here are Judy and Stew with 2009 HHIPC winner Michail Lifits after he accompanied violinist
Vilde Frang at a Kennedy Center recital in 2013. This March the duo will perform at Carnegie Hall.
Now a Steinway Artist, Michail has released two albums on Decca. He often performs in Europe including at London's Wigmore Hall, at Switzerland's Verbier Festival and last December with the Munich Symphony Orchestra.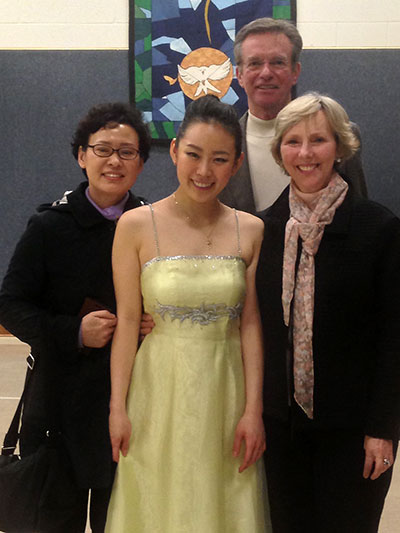 Yoonie Han was the Brown's competitor in 2012. They have traveled with her to Florida, Georgia and Fripp Island to hear her play.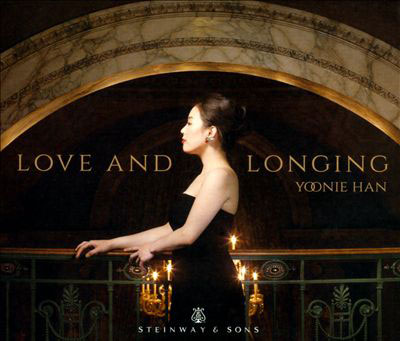 You might enjoy Yoonie's recent recording Love and Longing on the Steinway label. It was the "album of the week" on WQXR, New York City's classical music radio station.