The Hilton Head Symphony Orchestra and The Hilton Head International Piano Competition present Chang-Yong Shin in Review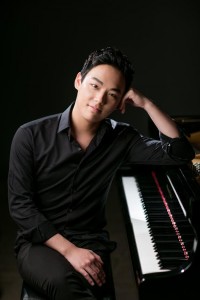 The Hilton Head Symphony Orchestra and The Hilton Head International Piano Competition present Chang-Yong Shin
Chang-Yong Shin, piano
2016 Hilton Head International Competition Winner
Weill Recital Hall at Carnegie Hall, New York, NY
November 19, 2016
The Hilton Head piano competition presented its latest first prize winner, Chang-Yong Shin, in a well-attended recital at New York's Weill Recital Hall at Carnegie Hall on Saturday afternoon, and what a stimulating afternoon it was. Mr. Shin has that rare ability to generate visceral excitement just by playing his instrument. He alternates between extreme fire and melting sensitivity, each of which gains by contrast to the other. Naturally, he has technique to burn. I found some of his forte dynamics strident in the small confines of Weill, but then I thought if he had tempered them, some other element of his presentation may have suffered. He has what Adele Marcus used to call "the big line": a clear idea of every piece, every movement, and every phrase within the movement. Once a section begins, it travels on its own stream of energy that never flags; he does not "tear apart" phrases in search of detail, everything is integrated.
He began with Bach's Toccata in D major, BWV 912. Anyone who has read my work knows that I love Bach on the modern piano. Mr. Shin seized every opportunity to use the "toccata" for its intended message—a) to show off the player's dexterity and touch variety, and b) display a learned contrapuntal sensibility. These very early keyboard works of Bach are not programmed nearly as often as they deserve, but then one needs a Mr. Shin to bring them to bold, crisp, exciting life.
There followed Busoni's fiendishly difficult Sonatina No. 6, subtitled Kammer-Fantasie über Bizets 'Carmen' (also commonly called Fantasia da Camera super Carmen) . I'm not sure what the "chamber" dimension is in this piece, which is resolutely a piano solo. Mr. Shin revealed (with Busoni's help of course) the entire tragic unfolding of the opera in just nine minutes. His lyrical playing was absolutely superior, and the mysterious death-haunted ending was perfect. He also brought a genuine sense of playfulness, as though enjoying his own ability negotiate the score.
The first half concluded with Beethoven's Sonata in A major, Op. 101, a test of any pianist's maturity and depth. Again, Mr. Shin rose to every challenge, but he was particularly affecting in the Langsam und sehnsuchtsvoll (Slowly and full of longing) third "movement," which proceeds directly into the exultant final sonata-fugue, where his energy was exuberant. His phrasing in the strictly canonic central section of the second movement was scrupulous, one doesn't often hear it; however, I found the outer sections too rambunctious (though convincing).
After intermission, Shin gave the first movement, Los Requiebros (Flirtatious Remarks), from Granados' piano suite Goyescas. Granados died when the channel ferry ship Sussex was torpedoed in the English Channel by the German submarine UB-29 on March 24, 1916. He had returned to England successfully from conducting his opera (also called Goyescas) at the Metropolitan Opera, but was on the Sussex as it was heading to France. Here Mr. Shin handled the ornate piano writing, never missing where the main melodies were, and clarifying every bit of this daunting piano writing. At the teneramente e calmato section, Mr. Shin managed to create an oceanic oasis of calm at the center of what had been very "busy" writing—it was breathtaking.
He closed with Prokofiev's Seventh Sonata, in B-flat major, Op. 83, the middle sonata of the three "war" sonatas (World War II). This is music of almost unbearable anxiety, fear, and violence. Again, the inner fire of Mr. Shin was appropriate to the message of the piece. However, I found his most successful movement to be the central, lyrical one, Andante caloroso (warmly proceeding), that resembles a nostalgic romance one might sing after too many vodkas, and then becomes elevated and ultra-tragic, with alarm bells ringing obsessively, before the "inebriated" song returns, with a final disquieting bell. The outer movements really were exciting, despite the brutality of the sound—I never heard Gilels or Richter make a harsh sound in this work, but they were completely authentic in terms of musical message. (Yes Mr. Shin, you're being spoken of in the same breath as Gilels and Richter.)
(Aside to all young artists: At the risk of sounding like a broken record, PLEASE provide program notes. If you aren't comfortable creating them yourselves, hire someone who is. Also, this program didn't even have sections or movements of works indicated.)
Mr. Shin favored the enthusiastic audience with two well-deserved encores: the Schumann/Liszt Widmung song transcription, played with maturity and lyricism; and the Liszt Transcendental Etude in F minor, which was wild, but again created a visceral thrill such as we don't often get from typical "competition winners." Keep studying with the best, Chang-Yong, and nurture that beautiful talent you have.